Archive for April, 2009
The current issue of Print Magazine features photographs and a wonderful write-up about Lauren as one of their 2009 New Visual Artists!   Full article on the Print Magazine Website.  Take a look!
In addition to our amazing roster of artists, designers and photographers, Giant Artists is doing some work with a non-profit called the Yellow Bird Project. '
Headquartered in Montreal, this is a dynamic non-profit initiative that collaborates with musicians to raise money for various charities.  It's a simple idea with a positive impact.  The Yellow Bird Project selects bands and asks them to contribute an original design. They then print their designs onto t-shirts to sell and raise money for the charity of the band's choice through the organization's website: www.yellowbirdproject.com. 
Musicians who have contributed include Rilo Kiley, Devendra Banhart, The Shins and Wolfmother to name a few. In addition to their charitable message, the Yellow Bird Project offers original and unique designs that are not available anywhere else. We love what they are doing and encourage everyone to buy a t-shirt for a good cause!
Also, this summer Chronicle Books will publish the first ever – Indie Rock Coloring Book – by the Yellow Bird Project, a fitting tribute to the DIY spirit of the bands, featuring witty, hand-illustrated activity pages from artist Andy J. Miller. Participating bands include Bloc Party, the Shins, Stars, Broken Social Scene, Devendra Banhart, Andrew Bird, Rilo Kiley, the New Pornographers, the National, and 20 other artists.  Again, with all of the royalties going to charity.
Help us spread the word about this incredible organization!!!
Some new photos I took of Iz and Jon of Hecuba. And if you are in LA stop by their record release party at the Echo tomorrow night!
http://www.myspace.com/hecubahecuba
x
Lauren
As part of Paramount's promotion of the new Star Trek movie, twenty artists were asked to design their own Enterprise ships.   Will Lemon III and Day19 both received gigantic wooden crates on their doorsteps a few months ago.  Inside each crate was an unpainted model of The Starship Enterprise.  The artists were given total creative freedom to do whatever they wanted with the model.  This is what they did.  Will Lemon is number 18 and Day19 is number… 19.  The ships are on display at various theathers throughout the country.
Styled by Shirley Kurata, photographed by Patrick Fraser.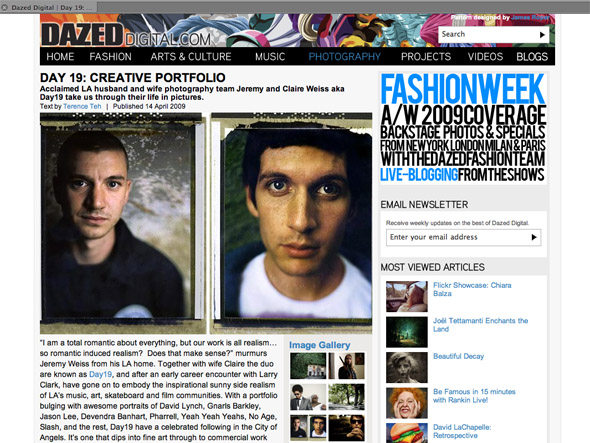 We have an interview that went up yesterday on Dazed & Confused's website. You can read it here…
www.DazedDigital.com
Thanks to everyone who came out Thursday night, we couldn't be happier with our first group photography show!! Can't wait to take it on the road, this kid is really going places!  Thanks again to our friends at MOPLA!
Skin Printer & Fine Artist, Will Lemon, worked on the Supreme Models look book, and with Animal Collective in the new issue of SPIN. He also worked with Natasha Khan of Bat for Lashes on the cover of the current issue of DAZED AND CONFUSED.